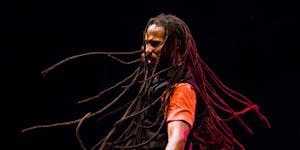 with Tubby Love & Amber Lily
Ziggy Marley
Denver Botanic Gardens - York Street
$69.00 - $74.00
Sales Ended
On Ticketfly
*$5/ticket fee will be applied at check out.
Ziggy Marley
Website | Facebook | Twitter | Instagram | Video
An eight-time GRAMMY winner, Emmy winner, author, philanthropist, and reggae icon, Ziggy Marley has released thirteen albums to much critical acclaim. Now with his own label, Tuff Gong Worldwide, and publishing company, Ishti Music, Marley has complete control of his master recordings and publishing. His early immersion in music came at age ten when he sat in on recording sessions with his father, Bob Marley. As front man to Ziggy Marley and the Melody Makers, the group released eight best-selling albums that garnered three GRAMMYs, Ziggy's first solo album, "Dragonfly" (RCA Records), was released in 2003. His second solo release, "Love is My Religion" (Tuff Gong Worldwide), won a GRAMMY in 2006 for "Best Reggae Album." His third solo studio album, "Family Time" (Tuff Gong Worldwide), scored a 5th GRAMMY award for "Best Children's Album." Ziggy's fifth solo studio album, "Fly Rasta" was released to mass critical acclaim in 2015, and earned his 7th GRAMMY for "Best Reggae Album". 2016 marked the release of Marley's self-titled album, which garnered his 8th GRAMMY. His GRAMMY nominated 'Rebellion Rises' is out now via Tuff Gong Worldwide.
Tubby Love & Amber Lily
Website | Facebook | Twitter | Instagram | Video
Tubby Love's physical, spiritual, and musical transformation has been a testimony to the power of human evolution. Music has been the catalyst for deepening his connection to life and also a bridge for sharing his journey with others. Calling the island of Kauai home has set forth a Roots Family movement involving regenerative land and energy practices connecting communities inter-island and worldwide. Tubby and his partner Amber Lily have been blessed to create a soundtrack for this movement alongside artists like Medicine For The People, Dustin Thomas, Wookiefoot, Trevor Hall, Mike Love, Nattali Rize, Paul Izak, The Earth Guardians, Rising Appalachia, Cas Haley, as well as other artists with a similar message. In a time of much needed change, Tubby Love is unifying the people through music and addressing real issues to inspire solutions.