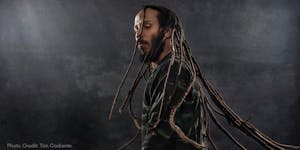 Ziggy Marley
Denver Botanic Gardens - York Street
$69.00 - $74.00
Sales Ended
On Ticketfly
*$5/ticket fee will be applied at check out.
Ziggy Marley
Website | Facebook | Twitter | Instagram | Video
An eight-time GRAMMY winner, Emmy winner, author, philanthropist, and reggae icon, Ziggy Marley has released thirteen albums to much critical acclaim. Now with his own label, Tuff Gong Worldwide, and publishing company, Ishti Music, Marley has complete control of his master recordings and publishing. His early immersion in music came at age ten when he sat in on recording sessions with his father, Bob Marley. As front man to Ziggy Marley and the Melody Makers, the group released eight best-selling albums that garnered three GRAMMYs, Ziggy's first solo album, "Dragonfly" (RCA Records), was released in 2003. His second solo release, "Love is My Religion" (Tuff Gong Worldwide), won a GRAMMY in 2006 for "Best Reggae Album." His third solo studio album, "Family Time" (Tuff Gong Worldwide), scored a 5th GRAMMY award for "Best Children's Album." Ziggy's fifth solo studio album, "Fly Rasta" was released to mass critical acclaim in 2015, and earned his 7th GRAMMY for "Best Reggae Album". 2016 marked the release of Marley's self-titled album, which garnered his 8th GRAMMY. His GRAMMY nominated 'Rebellion Rises' is out now via Tuff Gong Worldwide.
El Javi
Website | Facebook | Twitter | Instagram | Video
El Javi, out of Mexico City, joins the spirit of flamenco with the heart of rock producing the unparalleled experience of Rock Flamenco. Through his distinct sound, he paints an auditory portrait composed of strength and intimacy, reflecting his experiential existence as both human and artist. Collaborations color his compositions as he endlessly evolves his music, warranting his title. The King of Rock Flamenco.
Highlights of his career include Festival of the Arts in Coahuila Mexico, The Jazz and Blues festival in Santa Clarita, CA , the Denver International Festival, The International Music Festival in San Jose del Cabo, Mex, the Salmon Arm Festival in British Columbia, Canada. and opened for today's biggest voice of flamenco, Diego el Cigala, during his Noche Tacumana world tour in San Miguel de Allende, Mex.
Currently, EL Javi tours North America with his powerful live performances as he promotes the 2nd part of the Gypsy Journey trilogy "El Refugio."