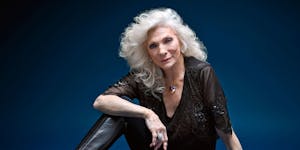 with Joan Osborne (Sings the Songs of Bob Dylan)
Judy Collins
Joan Osborne
Denver Botanic Gardens - York Street
$64.00 - $69.00
Sales Ended
On Ticketfly
*$5/ticket fee will be applied at check out.
Get the opportunity to meet Judy Collins backstage at Denver Botanic Gardens on August 12th! Click here to purchase the Meet & Greet Experience.
Judy Collins
Website | Facebook | Twitter | Instagram | Video
Judy Collins has inspired audiences with sublime vocals, boldly vulnerable songwriting, personal life triumphs, and a firm commitment to social activism. In the 1960s, she evoked both the idealism and steely determination of a generation united against social and environmental injustices. Five decades later, her luminescent presence shines brightly as new generations bask in the glow of her iconic 50-album body of work, and heed inspiration from her spiritual discipline to thrive in the music industry for half a century.
The award-winning singer-songwriter is esteemed for her imaginative interpretations of traditional and contemporary folk standards and her own poetically poignant original compositions. Her stunning rendition of Joni Mitchell's "Both Sides Now" from her landmark 1967 album, "Wildflowers", has been entered into the Grammy Hall of Fame. Judy's dreamy and sweetly intimate version of "Send in the Clowns," a ballad written by Stephen Sondheim for the Broadway musical "A Little Night Music", won "Song of the Year" at the 1975 Grammy Awards. She's garnered several top-ten hits gold- and platinum-selling albums. Recently, contemporary and classic artists such as Rufus Wainwright, Shawn Colvin, Dolly Parton, Joan Baez, and Leonard Cohen honored her legacy with the album "Born to the Breed: A Tribute to Judy Collins".
Judy began her impressive music career at 13 as a piano prodigy dazzling audiences performing Mozart's "Concerto for Two Pianos," but the hardluck tales and rugged sensitivity of folk revival music by artists such as Woody Guthrie and Pete Seeger seduced her away from a life as a concert pianist. Her path pointed to a lifelong love affair with the guitar and pursuit of emotional truth in lyrics. The focus and regimented practice of classical music, however, would be a source of strength to her inner core as she navigated the highs and lows of the music business.
In 1961, she released her masterful debut, "A Maid of Constant Sorrow", which featured interpretative works of social poets of the time such as Bob Dylan, Phil Ochs, and Tom Paxton. This began a wonderfully fertile thirty-five year creative relationship with Jac Holzman and Elektra Records. Around this time Judy became a tastemaker within the thriving Greenwich Village folk community, and brought other singer-songwriters to a wider audience, including poet/musician Leonard Cohen – and musicians Joni Mitchell and Randy Newman. Throughout the 60s, 70s, 80s, 90s, and up to the present, she has remained a vital artist, enriching her catalog with critically acclaimed albums while balancing a robust touring schedule.
Prolific as ever, Judy recorded a DVD special "Judy Collins: A Love Letter To Stephen Sondheim", in her hometown of Denver, CO. Along with the Greely Philharmonic Orchestra, Judy dazzled the audience with Sondheim's beautiful songs and her lovely, radiant voice. DVD and CD companion will be released in early 2017. Judy also released a collaborative album in June 2016, Silver Skies Blue, with writing partner, Ari Hest. Silver Skies Blue has been GRAMMY nominated for BEST FOLK ALBUM in 2017, this is the first GRAMMY nomination for Collins in over 40 years.
On September 18, 2015, Judy released "Strangers Again". She invited a cast of icons and young talents to sing with her on this fresh collection, from Willie Nelson, Jackson Browne and Jeff Bridges to Glen Hansard, Ari Hest and Bhi Bhiman. Judy delicately soars over a revitalized "Send In The Clowns" and breathes new life into "Hallelujah." She puts her indelible touch on songs by Leonard Bernstein, Randy Newman, James Taylor and more.
In 2012, she released the CD/DVD "Judy Collins Live At The Metropolitan Museum Of Art" which aired on PBS. This special television program was nominated for a New York Emmy and won a Bronze Medal at the 2013 New York Festival International Television & Film Awards. Based on it's success, in 2014 she filmed another spectacular show in Ireland at Dromoland Castle. "Live In Ireland" was released in 2014. This program also won a Bronze Medal at the 2014 New York Festival International Television & Film Awards and the program will broadcast on PBS in 2014 and 2015.
Judy has also authored several books, including the powerful and inspiring, "Sanity & Grace" and her extraordinary memoir, "Sweet Judy Blue Eyes: My Life in Music". For her most recent title to be released in 2017, Cravings, she provides a no-holds barred account of her harrowing struggle with compulsive overeating, and the journey that led her to a solution. Alternating between chapters on her life and those of the many diet gurus she has encountered along the way (Atkins, Jean Nidtech of Weight Watchers, Andrew Weil, to name a few), Cravings is the culmination of Judy's genuine desire to share what she's learned—so that no one has follow her heart-rending path to recovery.
In addition, she remains a social activist, representing UNICEF and numerous other causes. She is the director (along with Jill Godmillow) of an Academy Award-nominated film about Antonia Brico – PORTRAIT OF A WOMAN, the first woman to conduct major symphonies around the world–and Judy's classical piano teacher when she was young.
Judy Collins, now 77, is as creatively vigorous as ever, writing, touring worldwide, and nurturing fresh talent. She is a modern day Renaissance woman who is also an accomplished painter, filmmaker, record label head, musical mentor, and an in-demand keynote speaker for mental health and suicide prevention. She continues to create music of hope and healing that lights up the world and speaks to the heart.
Joan Osborne
Website | Facebook | Twitter | Video
On "Songs of Bob Dylan", Joan Osborne unleashes her sizable gifts as a vocalist and interpreter upon The Bard's celebrated canon. With performances honed by the time Osborne spent polishing them during "Joan Osborne Sings The Songs Of Bob Dylan" — two critically acclaimed two-week residencies she performed at New York City's Café Carlyle in March 2016 and 2017, the seven-time Grammy-nominated, multi-platinum-selling singer and songwriter, whom "The New York Times" has called "a fiercely intelligent, no-nonsense singer," winds her supple, soulful voice around Dylan's poetic, evocative lyrics, etching gleaming new facets in them along the way.
"I try not to do a straight-up imitation of what someone else has done," Osborne says. "Like if you're going to sing an Otis Redding song, you're never going to out-Otis him so you shouldn't even try. So I always try to find some unique way into the song, and also to pick songs where the intersection between the song and my voice hits some kind of sweet spot. It was a joy being able to sing these brilliant lyrics. It's like an actor being given a great part. You are just so excited to say these lines because they're so powerful that it lifts you up above yourself."
The album spans Dylan's beloved standards from the '60s and '70s ("Masters of War," "Highway 61 Revisited," "Rainy Day Women #12 & 35," "Buckets of Rain," "Tangled Up In Blue") to some of Osborne's favorites from his later albums, including "Dark Eyes" (from 1985's "Empire Burlesque"), "Ring Them Bells" (from 1989's "Oh Mercy"), "Tryin' To Get To Heaven" (from 1997's "Time Out of Mind"), and "High Water" (from 2001's Love and Theft). "His versions are legendary and I'm not trying to improve on them," Osborne says. "I'm just trying to sing beautiful songs and let people hear them. It's about trying to give a different shade of meaning to something that's already great. I happen to think Dylan is a great singer, but I will never, in a million years, sound like him, which almost made it easier."
Unconstrained by any notion of trying to imitate or surpass Dylan, Osborne felt free to play with the songs' arrangements, a process that was also enabled by the virtuosity and versatility of Osborne's collaborators, guitarist Jack Petruzzelli (Patti Smith, The Fab Faux) and keyboardist Keith Cotton (Idina Menzel, Chris Cornell), who performed with her at Café Carlyle, and with whom she co-produced the album. "They bring this wealth of skills to the table," she says. "Any crazy idea we came up with, they could do. So it was wonderful to have that level of musicianship at my fingertips." Half the songs were recorded with the trio and the other half feature a full band.
In Osborne and her musicians' hands, Dylan's songs take on varied new shapes. His rollicking, bluesy classic "Highway 61 Revisited" gets a propulsive, radical makeover with a Middle Eastern vibe inspired by the song's biblical imagery. The raucous, brass-band driven "Rainy Day Women #12 & 35" (featuring the famous line "Everybody must get stoned") is reinvented with a smoky, slinky late-night jazz-club feel that puts an entirely fresh spin on the song. "It allowed me to take a lyric that I think has been interpreted as very jokey and about just getting wasted and reframe it in a way where it has a bit of a different meaning," she says. "Quinn the Eskimo (Mighty Quinn)," a song popularized by Manfred Mann, is subtly rearranged to bring out the gospel flavor, endowing it with a celebratory air that fully suits the song. "We've been opening our show with it and it's just a wonderful 'joyful noise' sort of moment," Osborne says.
On "Ring Them Bells," Osborne retains the spiritual overtones of the original, though the song takes on new resonance given today's political climate. "Oh Mercy is such a touchstone album for me," she says. "I sang 'Ring Them Bells' at a couple of benefits for firefighters' families right after 9/11 and, in that context, it was apparent how a song like that has the power to grab people's emotions when we're facing huge challenges. We're living in a moment like that now, where there's a lot of uncertainty and fear about what's happening in the world. So it feels like the time to bring out a song like this. I'd say the same thing about 'Masters of War.' We need to hear the most powerful, political songs. We need to hear our great writers and poets talking about these times."
Making "Songs of Bob Dylan" sprung from an idea Osborne had been toying with for some years: to record a series of Songbook albums, akin to Ella Fitzgerald's eight-album series where the jazz singer interpreted the songs of Cole Porter, Harold Arlen, and others classic American Songbook writers. "I always thought it would be really interesting to update that idea and do something similar myself," she says. So when she received the call from Café Carlyle, an intimate Upper East Side institution known for headlining performances by legendary interpretive singers like Judy Collins and the late Bobby Short, Osborne thought it might be the perfect venue to test it out. "I chose to start with Bob Dylan because of his stature as a writer," she says. "And also because he has so many incredible songs. I'd never run out of ideas for different tunes to try."
"Joan Osborne Sings The Songs Of Bob Dylan" was a smashing success with both fans and critics, who called it "magic," and praised her as having "a style and wisdom that is all her own, which allows you to hear each of these brilliant songs as if for the first time." "The New York Times" noted that "at every point in the evening, you had a sense of Ms. Osborne as an artist who knew exactly what she was doing." Of course Osborne is no stranger to interpreting songs in a wide variety of genres. In addition to releasing a string of studio albums featuring her frank, expressive original songwriting (the 3x-platinum, 6-time Grammy-nominated "Relish", "Righteous Love", "Pretty Little Stranger", "Little Wild One", and "Love and Hate"), Osborne has also made three albums of soul, R&B, and blues covers ("How Sweet It Is", "Breakfast In Bed", which also features originals, and the Grammy-nominated "Bring It On Home"). AllMusic has called her "the most gifted vocalist of her generation and a singer who understands the nuance of phrase, time, and elocution."
The Kentucky native famously got her start performing her own songs in New York City's downtown rock clubs, around the time that she began to rediscover Dylan's work with "Oh Mercy". "When you're playing in the nightclub scene in Greenwich Village, his trail is everywhere, and not just because he played in the same places, but because people still perform his music every night. He's part of the American musical education you get, whether you're learning about him in some music conservatory or by playing in bars five nights a week. During those years I started to become more familiar with his music. And at the point when I was starting to arrange my own stuff and make my own recordings, hearing records like 'Subterranean Homesick Blues' or 'Highway 61 Revisited,' I thought, 'Wow, that just has such an immediacy and freshness. How did he do that?' It's interesting to dig into it from that aspect, when music is your livelihood."
In 2003, Osborne joined the surviving members of The Grateful Dead and had the chance to sing with Dylan, their co-headliner. "We performed 'Tears of Rage,' a song Dylan co-wrote with Richard Manuel," Osborne says. "He came up to me after the show and said, 'You know, I never liked that second verse, but I rewrote it. What do you think of these lyrics?' And he read me the alternate lyrics that he'd apparently just written on this scrap of paper. I was so flabbergasted that Bob Dylan is standing there, we're both sweaty from performing on this hot summer day in Indiana, and he's asking me what I think of his lyric changes for this classic song. And all I could do was just say, 'Oh yeah, that sounds good. I can hear that.'"
And what does Osborne think Dylan himself would think of her album? "Well, I would hope that he wouldn't get pissed at me," she says with a laugh. "I don't think so. I mean, why write a song? He just released his third album of standards, so he must understand that a song desires to be sung, no matter who wrote it. It continues to live only if people sing it."