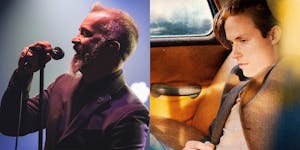 JJ Grey & Mofro and Jonny Lang
Denver Botanic Gardens - York Street
$72.00 - $77.00
Sales Ended
On Ticketfly
Try using our Ticket Exchange powered by Lyte to find tickets to this sold out show. https://lyte.com/ticketfly/exchange/1833690/
JJ Grey & Mofro
Website | Facebook | Twitter | Instagram | Video
From the days of playing greasy local juke joints to headlining major festivals, JJ Grey remains an unfettered, blissful performer, singing with a blue-collared spirit over the bone-deep grooves of his compositions. His presence before an audience is something startling and immediate, at times a funk rave-up, other times a sort of mass-absolution for the mortal weaknesses that make him and his audience human. When you see JJ Grey and his band Mofro live—and you truly, absolutely must—the man is fearless.
Onstage, Grey delivers his songs with compassion and a relentless honesty, but perhaps not until "Ol' Glory" has a studio record captured the fierceness and intimacy that defines a Grey live performance. "I wanted that crucial lived-in feel," Grey says of "Ol' Glory", and here he hits his mark. On the new album, Grey and his current Mofro lineup offer grace and groove in equal measure, with an easygoing quality to the production that makes those beautiful muscular drum-breaks sound as though the band has set up in your living room.
Despite a redoubtable stage presence, Grey does get performance anxiety—specifically, when he's suspended 50 feet above the soil of his pecan grove, clearing moss from the upper trees.
"The tops of the trees are even worse," he laughs, "say closer to 70, maybe even 80 feet. I'm not phobic about heights, but I don't think anyone's crazy about getting up in a bucket and swinging all around. I wanted to fertilize this year but didn't get a chance. This February I will, about two tons—to feed the trees."
When he isn't touring, Grey exerts his prodigious energies on the family land, a former chicken-farm that was run by his maternal grandmother and grandfather. The farm boasts a recording studio, a warehouse that doubles as Grey's gym, an open-air barn, and of course those 50-odd pecan trees that occasionally require Grey to go airborne with his sprayer.
For devoted listeners, there is something fitting, even affirmative in Grey's commitment to the land of his north Florida home. The farms and eddying swamps of his youth are as much a part of Grey's music as the Louisiana swamp-blues tradition, or the singer's collection of old Stax records.
As a boy, Grey was drawn to country-rockers, including Jerry Reed, and to Otis Redding and the other luminaries of Memphis soul; Run-D.M.C., meanwhile, played on repeat in the parking lot of his high school (note the hip-hop inflections on "A Night to Remember"). Merging these traditions, and working with a blue-collar ethic that brooked no bullshit, Grey began touring as Mofro in the late '90s, with backbeats that crossed Steve Cropper with George Clinton and a lyrical directness that made his debut LP "Blackwater" (2001) a calling-card among roots-rock aficionados. Soon, he was expanding his tours beyond America and the U.K., playing ever-larger clubs and eventually massive festivals, as his fan base grew from a modest group of loyal initiates into something resembling a national coalition.
Grey takes no shortcuts on the homestead, and he certainly takes no shortcuts in his music. While he has metaphorically speaking "drawn blood" making all his albums, his latest effort, "Ol' Glory", found him spending more time than ever working over the new material. A hip-shooting, off-the-cuff performer (often his first vocal takes end up pleasing him best), Grey was able to stretch his legs a bit while constructing the lyrics and vocal lines to "Ol' Glory".
"I would visit it much more often in my mind, visit it more often on the guitar in my house," Grey says. "I like an album to have a balance, like a novel or like a film. A triumph, a dark brooding moment, or a moment of peace—that's the only thing I consistently try to achieve with a record."
Grey has been living this balance throughout his career, and "Ol' Glory" is a beautifully paced little film. On "The Island," Grey sounds like Coleridge on a happy day: "All beneath the canopy / of ageless oaks whose secrets keep / Forever in her beauty / This island is my home." "A Night to Remember" finds the singer in first-rate swagger: "I flipped up my collar ah man / I went ahead and put on my best James Dean / and you'd a thought I was Clark Gable squinting through that smoke." And "Turn Loose" has Grey in fast-rhyme mode in keeping with the song's title: "You work a stride / curbside thumbing a ride / on Lane Avenue / While your kids be on their knees / praying Jesus please." From the profane to the sacred, the sly to the sublime, Grey feels out his range as a songwriter with ever-greater assurance.
The mood and drive of "Ol' Glory" are testament to this achievement. The album ranks with Grey's very best work; among other things, the secret spirituality of his music is perhaps more accessible here than ever before. On "Everything Is a Song," he sings of "the joy with no opposite," a sacred state that Grey describes to me:
"It can happen to anybody: you sit still and you feel things tingling around you, everything's alive around you, and in that a smile comes on your face involuntarily, and in that I felt no opposite.It has no part of the play of good and bad or of comedy or tragedy. I know it's just a play on words but it feels like more than just being happy because you got what you wanted — this is a joy. A joy that doesn't get involved one way or the next; it just is."
Grey's most treasured albums include Otis Redding's "In Person at the Whisky a Go Go" and Jerry Reed's greatest hits, and the singer once told me that he grew up "wanting to be Jerry Reed but with less of a country, more of a soul thing." With "Ol' Glory", Grey does his idols proud. It's a country record where the stories are all part of one great mystery; it's a blues record with one foot in the church; it's a Memphis soul record that takes place in the country.
In short, "Ol' Glory" is that most singular thing, a record by JJ Grey—the north Florida sage and soul-bent swamp rocker.
Jonny Lang
Website | Facebook | Twitter | Instagram | Video
It is hard to believe that at 36 years old Jonny Lang has already had a successful career for two decades.
Easier to believe when you learn he released his first platinum record at 15—an age when many young people are just beginning to play music. Lie to Me revealed a talent that transcended the crop of blues prodigies floating around in the late Nineties. No flashy re-hasher of classic blues licks, even at that early age Lang was a full-blown artist with a style of his own. Also, setting Lang apart from the wunderkind crowd was a 15-year-old voice that sounded like a weathered soul shouter. Actual life experience was yet to come, and has been subsequently chronicled in a series of five uniformly excellent recordings. "I got married, had kids, and that arc has been recorded on albums along the way," says Lang. "There is a lot of personal history in there, and also some things that relate to world events."
What began as a bluesy sound, influenced by electric pioneers like Albert Collins, B. B. King, and Buddy Guy, evolved over those recordings into a modern R&B style closer to Stevie Wonder and contemporary gospel music. Lang's distinctive, blues-inflected licks appeared on every album, but became one element in a sea of passionately sung and tightly arranged songs.
Signs is not merely a return the artist's guitar-based beginnings, but an embodiment of an even more elemental sound. Beyond focusing attention on his soloing prowess, it is about recapturing the spirit of the early blues, where the guitar was front and center, fairly leaping out of the speakers. "A lot of my earlier influences have been coming to the surface, like Robert Johnson, and Howlin' Wolf," he reports. "I have been appreciating how raw and unrefined that stuff is. I had an itch to emulate some of that and I think it shows in the songs. Still, I let the writing be what it was and that was sometimes not necessarily the blues."
In this simpler spirit, Lang, Drew Ramsey, and Shannon Sanders convened in a Los Angeles studio with some melodic and arranging ideas and proceeded to crank out a dozen basic tracks in a few days. With a bit of overdubbing and further recording in L.A. and Nashville, and some further help from Dwan Hill, Dennis Dodd and Josh Kelley, Signs was done. The record, which features funk, rock, and blues elements, is held together by Lang's distinctive playing and singing, and the lyrics, which center on themes of embattlement and self-empowerment. "Some of the songs are autobiographical, but not usually in a literal way," Lang explains. "The main goal is for folks to be able to relate to what I went through. If I can't make it work using just my personal experience, I use my imagination to fill in blanks."
Starting off the record with a juke joint stomp, "Make It Move" is the singer's story about going to the mountain rather than waiting for it to come to you. "There have been times in my life where I thought something would take care of itself, when I should have put some effort forth to help it happen," says Lang. "Being proactive has been a weak spot for me, and the song is about doing your part to get things moving."
Fueled by some evil guitar sounds, "Snakes" turns the well-known warning about "snakes in the grass" into a poetic tale of a young man dealing with hubris and temptation. "It is mostly about the mistakes I made through not approaching life with humility, and the things I was susceptible to that distracted me," says Lang. "You are overconfident, thinking you are ready for whatever the world will throw at you, but have no idea some things are affecting you until much later in life."
The anthemic "Last Man Standing" started with a hook Drew Ramsey brought to the recording date. "We built the song around that premise," Lang explains. "When I was coming up with lyrics, it was personal, but I don't want to analyze it too much. I want it to be whatever it is going to be for the listener. That song could be applied to any situation in which you feel like you are struggling."
Lang breaks out the slide for the title song, "Signs," which extends outward from personal stories into the dramatic events of today's world. "I try to disregard politics as much as I can, but it seems like every day when you wake up there is something else crazy going on—not normal crazy, but more like movie script crazy," he says.
The rampaging guitars and driving groove of "Bitter End" reflect Lang's frustration with a seemingly endless cycle of history: "Why tear down a wall to build it up again." But he brings us back up with the lilting affirmation of "Stronger Together," and the funky exhortation to step "Into the Light."
A stunning guitar solo marks the Josh Kelly produced "Bring Me Back Home."
"Josh and I cut six or seven songs together and had a blast doing it," Lang says. "I am saving the other ones for who knows what, but I definitely wanted that one to be on this record."
Since the release of his debut album, Grammy Award winning Jonny Lang has built a reputation as one of the best live performers and guitarists of his generation. The path Lang has been on has brought him the opportunity to support or perform with some of the most respected legends in music. He has shared the stage with everyone from The Rolling Stones, B.B. King, Aerosmith and Buddy Guy, who he continues to tour with today.
Fans who discovered Jonny Lang through his searing instrumental work will revel in the huge guitar tones and go for broke solos on Signs, while those who have appreciated his growth as an honest and passionate songwriter will find that honesty and passion unabated. Though he long ago left blues purism behind, Lang has never abandoned its spirit of universal catharsis through the relating of personal trials. Signs reaffirms his commitment to the blues and the guitar without sacrificing the modern approach that has made him such a singular artist.