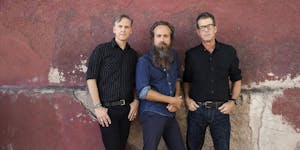 Calexico and Iron & Wine
Denver Botanic Gardens - York Street
$74.00 - $79.00
Sales Ended
On Ticketfly
$5/ticket fee will be applied at checkout.
Calexico and Iron & Wine
Iron & Wine and Calexico first made an artistic connection with "In the Reins," the 2005 EP that brought together Sam Beam, Joey Burns, John Convertino and friends. The acclaimed collaboration introduced both acts to wider audiences and broadened the younger Beam's artistic horizons, culminating in a joint tour in the tradition of Bob Dylan's "Rolling Thunder Revue".
Their metaphorical roads diverged in the years that followed, but they kept in touch and cross-pollinated where they could. Burns cropped up on Iron & Wine's 2007 album "Shepherd's Dog"; Beam sang on Calexico's "Carried to Dust" (2008) and "Edge of the Sun" (2015); steel guitarist Paul Niehaus, a longtime Calexico sideman, joined Beam's touring band. They played a benefit showed together in New York in 2013 and occasionally shared festival stages for a song or two. Although they often talked about rekindling their collaboration in the studio and on the stage, it wasn't until last year that their schedules aligned.
The result, "Years to Burn," can't help but be different from "In the Reins." Back then, Calexico entered the studio with a long list of previous collaborations (first in Giant Sand, then backing the likes of Victoria Williams and Richard Buckner) and the knowledge that they loved Sam's voice and his songs, but wondering if his material was so complete and self-contained that it lacked a way in, so hushed and delicate that it might be overwhelmed. For his part, Beam had been intimidated by their virtuosic playing and their deep comfort in an encyclopedic array of styles. "In my mind, I was a guy who knew three chords and recorded in a closet," Sam says. "They were playing big stages and were superb musicians."
Those fears had been dispelled quickly. Calexico was bowled over by Beam's many talents: "The arranging, the writing, his sense of rhythm, the quality of his vocals—and then there's the experimental side of Sam," Joey says. "I'm from a jazz background in high school, trained classically in college, and played punk and garage rock in my twenties before I landed with Giant Sand. That variety and that openness is so important to me. And with Sam, he was so open to it in his songs."
"They were the perfect band at the perfect time for me," Sam adds. "I loved all their different sounds. They're musical anthropologists, not regurgitating but absorbing what they discover." Nearly 15 years on, "coming back to the project has to do with acknowledging how much impact the first record had for me in my life."
When Beam, Burns and Convertino reconvened in Nashville for four days of recording in December 2018, nobody was keen to retread old ground. They even joked about calling the record "Nostalgia's A Bitch." The challenge was to make it new. The change of venue—from Calexico's home base of Tucson, where "In the Reins" was tracked—was one part of the effort.
Together with Niehaus, veteran Calexico trumpet player Jacob Valenzuela and frequent Beam cohorts Rob Burger (Tin Hat Trio) on piano and Sebastian Steinberg (Soul Coughing, Fiona Apple) on bass, they settled in at the Sound Emporium, a fabled studio founded in the sixties by Cowboy Jack Clement and the site of countless landmark sessions in country and rock over the ensuing decades.
Another added ingredient was engineer Matt Ross-Spang, whose recent resume includes producing Margo Price's "Midwest Farmer's Daughter," work with Memphis legends like Al Green in the Sam Phillips studio that's now Ross-Spang's home turf, and winning a Grammy for mixing Jason Isbell's album Something More Than Free (another Sound Emporium project). Ross-Spang was assisted by Rachel Moore; he shared production credits with Beam, Burns and Convertino.
Beam had written all the songs for "In the Reins." He took the lead again here, bringing five songs to the session, but this time Burns chipped in, too. "The first time, we basically backed up Sam playing his songs," John says. "This time we allowed for improvisation. Joey was willing to offer song ideas and Sam was open to it. It was more collaborative."
"With my own stuff, I'm always fighting expectations," Beam admits. "It's hard to stay focused on that sense of discovery." In contrast, this session was all about "making something together, the act of doing it together. We were coming in doing a version of ourselves, and we had these nostalgic melodies, but we were trying to surprise ourselves."
Beam's opener "What Heaven's Left" has the bones of a classic country weeper and Niehaus's crying pedal steel to match, but Valenzuela's horn—first floating, then high-stepping—tugs the tune toward R&B. The lyric gives thanks—to a lover, a sibling or friend, maybe music itself: "You take my doubt and let me believe/You find the lightning in the tops of my trees," Sam sings.
On Joey's "Midnight Sun", the two singers trade haunted-sounding verses over shimmering steel until the song devolves into a corrosive electric lead like a dying siren from Burns.
One of Beam's signature cinematic strummers with an inescapably sticky melody, "Father Mountain" is the lead single from Years to Burn. Burns doubles Beam's lead vocal with an almost ghostly high harmony as Burger's keys twinkle through the mix.
Then things get interesting. "John and I proposed doing this instrumental, free piece, and Sam said great," Joey recounts. That became "Outside El Paso", a showcase for Valenzuela, "a great improviser on trumpet," John says.
"I spend so much time on words and chord changes, whereas those guys, their musicality and songwriting are more on even ground," Sam adds. "Us doing that on the record was a way of stretching out. The way we play live shows together is similar, so this was a way of bringing the stage into the studio."
"Follow the Water" returns to Beam's comfort zone, foregrounding his vocals and a percussive refrain about being buffeted by life: "Everybody climbs on the rollercoaster car/Gets rattled by the track, up and down, around and back/Whoever I was, no matter who you are/No one's walking off the same."
The ensuing eight minutes are both the solution to something of a studio puzzle and the pinnacle of the session's free exchange of musical ideas. The pieces were "Tennessee Train", an acoustic sketch with a lyric Beam completed just as the session began, and "Evil Eye", a two-chord groove fit for improvisatory vamping. Each was more than worthy, but neither seemed to stand alone—until they were paired with another piece, "Pájaro," based on lyric fragments drawn from "Tennessee Train" then translated into Spanish and sung by Valenzuela over pretty acoustic picking.
Together the three form a single song cycle of three mini-movements whose title arose from a tossed-off joke that wound up hitting home. In a quiet moment at the end of a take, bassist Sternberg quipped, "Life is bittersweet," Convertino remembers. "We all laughed, but then we said, 'Yeah. Hell yeah.' And that became 'The Bitter Suite'."
In the suite and throughout these songs, "you can feel a spirit that reflects a sense of hope when times are tough." There are "minor chords and major chords, openness versus chaos, harmonies between Sam and myself, an uplifting feeling paired with melancholy, blues, sadness. It's a combination not easily described."
"Music is storytelling. Even if there aren't words, there's dialogue happening all through," John adds. "These dialogues tell stories of where we're at right now, and the beauty of music is you don't have to talk about it. You don't have to describe or instruct but go with intuition. For me the most important part is trusting the intuition in your heart and hope it translates to the listener or the people at the show."
The set closes with a pair of tunes written by Beam but sung by Burns. "I love doing that. You hear it different," Sam says. "We tried to do it as much as we could—tag team, I'll sing one of yours, you sing one of mine. The point is to create as much variety as possible."
The title track is a subtle stunner, adorned with gorgeous brass and steel, played with a lullaby's tender grace and delivered by Joey with delicate restraint. The lyric suggests a reflection on life's phases, its difficulties and pleasures, dreams and disappointments, connections made and broken, past and still to come.
"Life is hard. Awesome. And scary as shit. But it can lift you up if you let it," Sam offers. "These are the things Joey and I write about now. And the title can encapsulate a lot of things. 'Years to Burn' could mean you're cocky, you've got it made. Or, our life is ours to burn, to be inspired. Or you're burned by life, brutalized. It's an ambiguous title, because life is complicated. Let's not talk like teenagers about love, desire, pain, 'cause we're not teenagers. And that's not a bad thing."
The recording, and the partnership, come full circle on the closer. Penned some two decades ago, "In Your Own Time" was one of Beam's earliest demos and the first of his songs Calexico heard. With some extra studio time on the final day, Burns learned the tune and the band recorded it as a shared, shambling shuffle that rides Burger's loping, homey keys. Joey and Sam trade leads—Burns's Latin-tinged, Beam's a bit of bluesy slide—and share the vocal. "We only want a life that's well worth living/And sleeping ain't no kind of life at all," they sing in tandem. "Come meet the family and get warm by the fire/Someone will catch you if you want to fall."
Madison Cunningham
Website | Facebook | Twitter | Instagram | Youtube | Video
Orange County, CA native, Madison Cunningham, possesses a keen understanding of songcraft that is perplexing for someone who is just twenty-two years old. With an ear for melody that is reminiscent of early Joni Mitchell and approach to guitar and vocals that isn't far off from long past heroes of Jeff Buckley or Nick Drake, Madison exhibits a unique ability to keep the listener on the edge. She first picked up a guitar at age seven, and by age twelve was singing and performing alongside her five siblings in church. By the age of fifteen, Madison realized songwriting was a passion she wanted to pursue. It was a happenstance meeting with producer Tyler Chester (Blake Mills, Sara Watkins) six years ago that helped Madison start to develop her approach as a songwriter. Now at the age of twenty-two, Madison is a frequent guest on Chris Thile's "Live From Here" and has toured with Punch Brothers, Andrew Bird and Lucius among others. She has just released the stunning "For The Sake Of The Rhyme EP" on Verve Forecast ahead of her debut full length coming in mid 2019.