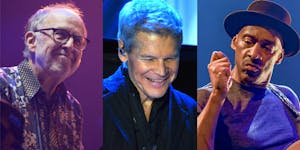 DOUBLE VISION REVISITED, with guests Billy Kilson & Larry Braggs
David Sanborn
Denver Botanic Gardens - York Street
$68.00 - $73.00
Sales Ended
On Ticketfly
*$5/ticket fee will be applied at check out.
DOUBLE VISION REVISITED
A jazz legend, Bob James has a career that has defined the genre and continues to evolve at every turn. David Sanborn is universally known as one of the most iconic saxophonists of the current age. Marcus Miller's characteristic bass sound can be heard on a limitless catalog of musical hits. Together, these three virtuosos reunite for the first time since the release of Double Vision, the 80s collaboration between James and Sanborn that dominated the airwaves, sold over one million copies, and earned a GRAMMY Award. Featuring the renowned track "Maputo," written by Marcus Miller, and the classic standard "Since I Fell For You" with guest vocalist Al Jarreau, Double Vision is considered by many as one of the most successful albums in the jazz genre.
Adding in the talents of featured guests Billy Kilson (drums) and Larry Braggs (guest vocals), the Double Vision Revisited band is a thrilling return to the classic sound of the famous album. The resulting program presents tunes capable of both amazing new listeners and enthralling long-term fans, showing audiences the world over the true magic of a good groove.
LAPOMPE
Website | Facebook | Instagram | Video
The tradition of Gypsy-Jazz is alive and well in Colorado. Denver-based LAPOMPE combines rustic gypsy swing with vintage blues and soulful originals to create a unique sound and style. The string quartet features two guitars, vocals, upright bass and violin and crafts a musical pulse brimming with energy. The band has been nominated by multiple publications for best jazz band on the front range and won the 2017 Producers Choice award at the Westword Music Showcase. That, on-top of headlining spots at City Park Jazz and the Speakeasy Soiree, festival appearances at Vail Jazz, Evergreen Jazz and a prestigious recurring weekly gig at Denver's Union Station, LAPOMPE is quickly becoming "Denver's Jazz Band".
Their debut all-original album, released June 2019, was recorded by Mighty Fine Productions and mastered with Grammy award winning David Glasser. By combining their love of gypsy jazz with the diverse musical influences of each band-member, LAPOMPE has managed to cultivate a sound that is both fresh and steeped in tradition. Don't miss the opportunity check out LAPOMPE!